Benefit and care management
The core capital of every company is its healthy, dynamic and productive employees. These days, however, increased time and performance pressure and more frequent interruptions are pushing people to their limits – and overtaxed employees are susceptible to illness or accident.

Care management by elipsLife helps twofold to reduce absences: preventively, by making HR managers more aware of health, workplace, ergonomic and social issues and providing them with advice and training in this area, and secondly, case management is activated in acute cases and accompanies employees on their way back to the workplace.
Probability of reintegration
Source: Federal office for social insurance

Workplace health promotion – prevention and health
Workplace health promotion always returns results, because satisfied and healthy employees perform better and identify more strongly with the company. elipsLife helps to define and implement suitable measures. The need for action is defined and a concept developed on the basis of a joint analysis of the overall situation. Measures are not only controlled, but also adjusted constantly.

Well-integrated attendance and absence management can help to substantially reduce short and long absences. This not only reduces the operating costs, but also increases the well-being of the company's employees.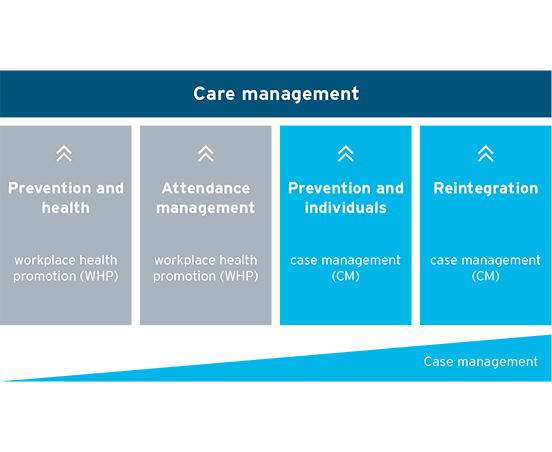 Case management
Case management by elipsLife supports sick people and/or accident victims during the recovery and reintegration process. A case manager is a qualified expert with many years of experience in the medical and social sectors and the field of work integration. It is his job to make sure that the affected persons receive individual and personalised supervision and help to return to professional life – step by step. He coordinates and at the right time involves the different partners such as doctors, social insurance schemes, government offices and family members and provides targeted support via his broad-based network.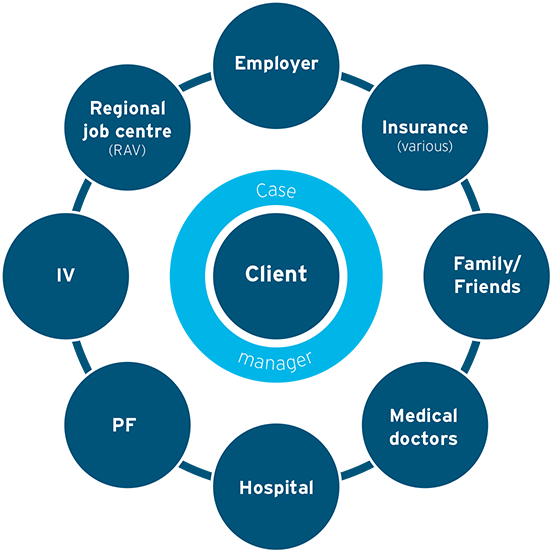 Submission of claims
You can choose one of the following two options for submitting illness or accident reports:
BBTClaims
The lean web solution for the secure and easy submission of electronic claims – for small and medium-sized companies with less than 15 reports per year.
Submitting reports via online form
SunetPlus for new users
Do you submit 15 or more claims or benefits notifications per year? Would you like to receive your settlement of daily allowance benefits and case status electronically? In that case we recommend you use SunetPlus.
Click here to see the benefitsDownload SunetPlus
SunetPlus for current users
Would you like to receive your settlement of daily allowance benefits and case status electronically? Then download the new version and benefit from the new functionalities.
Click here to see the benefitsDownload SunetPlus
Do you need help installing the software? If so, please contact your IT specialist or contact the SunetPlus hotline on 041 455 30 30.
Claims information
T: 044 215 45 40
F: 044 215 45 41
claims.ch@elipslife.com